PGI Central Italy Lamb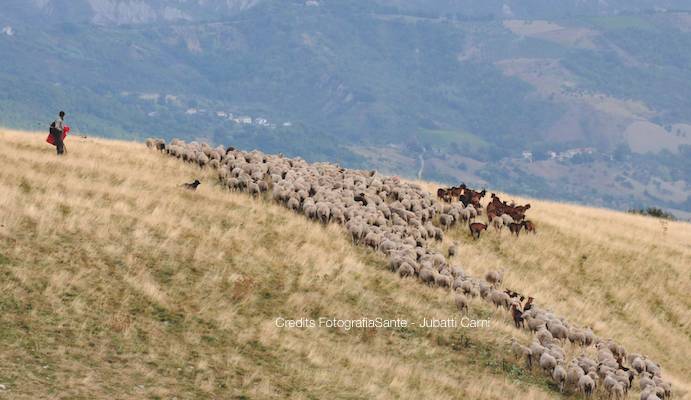 Italian meat? Of course, but not only…we offer much more, since we guarantee origin, quality, and deliciousness!
An indication or a graphic sign referring to Italy's or other nations' origin does not guarantee the quality and healthiness of a product. As a matter of fact, more and more often these days the Italian tricolour is abused to draw the consumer's mind on the great values of the "made in Italy". When purchasing a product, consumers can hardly ever analyse its label and come to trust it unawarely.
This is the reason why Jubatti offers not only excellent and natural meat, but also cares to provide certainties and assurances along the whole supply chain.
How? Complying with strict regulations, as the one which certifies our "PGI Central Italy Lamb" through the checks carried out by a Control Agency authorized by the "Ministry for Agricultural and Forestry Policies".
---

What does the indication "PGI Central Italy Lamb" exactly mean?
PROVENANCE GUARANTEE First of all, the places of origin and farming of all our heads have been acknowledged as Protected Geographical Indication. As for the Central Italy Lamb, in particular, the geographical area includes the territories of Abruzzo, Lazio, Marche, Toscana, Umbria and Emilia Romagna (only some of the provinces of this last region can be included).

ORIGIN GUARANTEE Our lambs belong to typical stocks and breeds and come from the same zootechnical area of Central Italy (which includes Abruzzo) where, from the mid-1900, they started gaining an excellent reputation, mainly because of their high organoleptic properties.

NATURAL DELICIOUSNESS GUARANTEE Our lambs are born and bred almost exclusively outdoors, initially weaned on breast milk and later mainly fed on the spontaneous species of trees growing in the meadows and pastures, in particular legumes and grass. The PGI Central Italy Lamb is characterized by a distinctive tenderness, a light pink colour and a very low intramuscular fat content (0.78 g out of 100 g).

INFORMATION GUARANTEE All the products made with PGI Central Italy Lamb meat are thoroughly traceable – from their origin up to the farming and butchery place and even to their transport – through their detailed labels.


Each label has a QR Code that allow you to visualize the lot and supply chain certification, asd you can see in the image below.

For further information please visit the website AGNELLODELCENTROTALIA.IT
---