Supply chain meat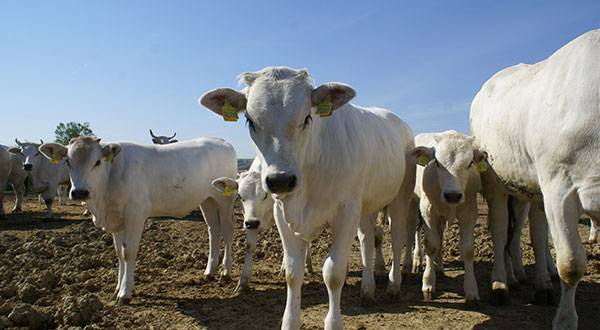 The different stages of production and processing of the meat, starting from the farming, form the so called "supply chain", guaranteed by Jubatti from its very origin.
We all know how much the diet, health, and well being of the animals can affect the organoleptic, nutritional, and health properties of a product as meat. This is the reason why we only select supply chain meat from farmers who comply with strict regulations and belong to guaranteed cooperatives.
Certified supply chain meat, traceable and, more importantly, PGI
They are not only Italian meat, but Protected Geographical Indication meat! (PGI is an origin seal acknowledged by the European Union to some food products characterized by a particular quality, reputation, or some other feature which depends on their geographical origin and whose production, transformation, and/or processing occurs in a specific geographical area).
What does this mean?
It means that these products are thoroughly guaranteed, starting from the choice of the breed, a paramount feature to offer products of excellent quality. Some breeds are born and bred only in specific areas in Italy, with a peculiar aptitude for the production of meat. The control document, an official document approved by the Ministry for Agricultural and Forestry Policies which guarantees the product, must be always compulsorily displayed to the consumer on the counter of the point of sale.
BREED MEAT

The Central Apennine White Baby Beef,for instance, a PGI Marche breed whose meat, highly digestible and succulent, distinguishes itself for an inimitable flavour.

>> Discover our PGI Marche Line

SAFE INFORMATION MEAT
Our internal labelling regulation for this meat is so strict that we easily comply with the integrated supply chains of the great distribution, guaranteeing effective supply services with different packaging types and all the information on the supply chain.


MEAT WITH A UNIQUE HISTORY
The history of the Marche breed dates back to the mid XIX century, when Marche's farmers crossbred the autochthonous podolic cattle (a strain deriving from the "Big Horns Cattle" which have lived in Italy since 500 d.C.) with Chianina bulls to obtain a strong breed, able to work and, at the same time, to make an excellent meat. After the grade, the cattle improved and gained a particular muscular growth. As a result of a secondary grade with the Romagnol breed in the early '900, carried out to shorten the height and improve the work in the fields, Marche cattle finally gained the present features.

MEAT WITH A DISTINGUISHABLE QUALITY
How do PGI Marche cattle look like today? This breed allows a great production of meat, both in terms of yield and quality. The meat looks lightly pinkish and fine-grained.

MEAT TRACEABLE FROM ITS VERY ORIGIN
Today Marche cattle are bred in the whole central Italy, and are particularly widespread in Campania, Sicilia, and abroad (especially Canada, U.S.A. and Latin America). With their great adaptability, the cattle are perfect for pasture on rough grounds, thus being an important means of salvaging and economic improvement of the so called "marginal lands".


GOOD AND HEALTHY MEAT
The refined organoleptic and nutritional properties of PGI meat, such as Jubatti's Marche meat, make it a particularly healthy food, especially for children, who require a wholesome and balanced diet, rich in proteins.

For further information, please visit the website>> vitellonebianco.it